There is nothing quite like "Homemade," both when it comes to food and wine.  Although it pays homage to the art of home winemaking, Opici Homemade Barberone is a one and only.  Since it debuted, it quickly became the staple everyday table wine of many households.  Considering the strong connection between food and wine, it seems only natural that this longtime favorite make the transition from bottle to dish.   So how about some "Homemade" pasta to go along with that glass of Barberone tonight?  But there's no need to start rolling out dough.  Check out this recipe which actually calls for pasta to be COOKED in Opici Homemade Barberone.  Who else's stomach is growling?
Opici Homemade Barberone Spaghetti with Tomatoes & Peppers

750 mL (1 bottle) Opici Homemade Barberone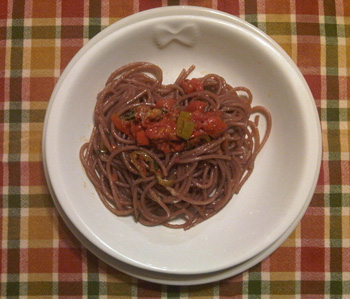 1 lb spaghetti
2 tblsp extra-virgin olive oil
1 clove garlic, smashed
½ tsp red pepper flakes
1 red, yellow or orange bell pepper, diced
8-10 grape tomatoes, halved
1 tblsp basil, roughly chopped
1 tblsp parsley, chopped
Salt, to taste
Bring 6 quarts of water to a boil and add 2 tablespoons salt.
In a saucepan, sauté garlic in oil. Add red pepper flakes & chopped bell pepper.  Cook until tender.  Toss together with tomatoes, basil, and parsley.
Cook the pasta in the boiling, salted water for about 4 minutes.  Drain the pasta, saving some of the water for the sauce. Return pasta to pot and add 1 bottle of Opici Homemade Barberone.  Cook the pasta in the wine until al dente.  Although the wine should be almost completely absorbed by the pasta, drain excess.
Add the pasta to the saucepan with some of the saved pasta water. Quickly toss on medium heat (less than 1 minute).   Add grated Parmigiano Reggiano cheese to taste and serve hot.  Serves 4.
Recipe submitted by Giovanna Lanza-Centola.