This year marks Mr. Opici's 101st Thanksgiving! After 101 feasts, we'd say Mr. O qualifies as a turkey-day expert, so who better to provide some Thanksgiving wine recommendations? Below is Mr. O's Thanksgiving wine list. We hope you can enjoy some of these wine pairings with your family and friends as you celebrate tomorrow.
Appetizers: If you've ever met Mr. O, you know that he's the king of the cocktail party. His charm and ability to share facts on just about any subject is unrivaled. And, of course, he does it all with his wine glass in hand. He recommends a sparkling wine for all of your Thanksgiving schmoozing. Subtly sweet with bold orchard fruits and a well-balanced finish, LaLuca Prosecco Treviso DOC is Mr. O's go-to sparkling wine. And if you enjoy bubbles, LaLuca will go well with with your entire Thanksgiving feast, including the tart cranberry sauce. To make your cocktail hour even more festive, Mr. O also suggests uncorking some LaLuca Sparkling Rosé, a light, crisp sparkling rosé which will pair nicely with your cheese hors d'oeuvres and fruit-inspired desserts.
Salad: When it's time for the salad course, Mr. O likes to uncork a Sauvignon Blanc, and is looking forward to pouring one of the newest wines in the portfolio this year: Totara Marlborough New Zealand Sauvignon Blanc. This lively wine pairs wonderfully with salads and seafood (perfect if you serve shrimp cocktail with your salad course), boasting flavors of rich citrus and stone fruit.
Soup: Soup is big in the Opici family, so it is no surprise that Mr. O looks forward to the butternut squash soup at Thanksgiving dinner. With this fall favorite, he recommends sipping on Auspicion California Chardonnay for its lovely flora, tropical fruit and sweet spice.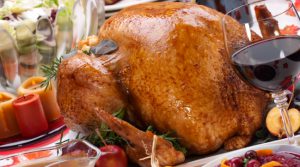 Main Course: When the main event arrives, Mr. O reaches for one of his favorite wines: Gavi di Gavi. He recommends Villa Rosa Gavi di Gavi — a dry, medium-bodied wine with aromas of apple and melon. Offering a crisp, clean finish, this wine is the perfect complement to turkey. For those seeking a red, Mr. O suggests a classic Tuscan standout like Carpineto Chianti Classico. Its velvety texture and notes of cherry make this full-bodied wine a wonderful accompaniment to game like turkey.
Dessert: Mr. O can never resist dessert, so you're sure to find a giant slice of pumpkin pie on his plate. For this course, he suggests moving to our Market Street Spirits line and sipping on some Brinley Gold Shipwreck Spiced Rum. The rum's blend of nutmeg, clove, vanilla, and spices are a great match for your pie.
Happy Thanksgiving from Mr. O and everyone at Opici Wines!