Thanksgiving is only a week away, and we have two things on our mind: food and wine. We know we're not alone — 'tis the season for dusting off the recipe cards and narrowing down the wine list for the big feast.
This year, we thought it would be fun to share some of our family recipes and wine pairings. We will be featuring these recipes over the next week and hope you can bring some of our culinary traditions into your kitchen this Thanksgiving!

Our first recipe comes from the family kitchen of Opici Wines sales manager George Palmieri. One year, George's cousin added a taste of Tuscany to Thanksgiving dinner with fried pumpkin ravioli. His family has been enjoying it ever since.
This flavorful ravioli combines pumpkin with ricotta, Amaretti cookies, vanilla, and nutmeg to create the perfect autumn appetizer. And if your mouth isn't already watering, the ravioli is fried and dusted with confectioners sugar — perfection.
George recommends enjoying this pre-dinner snack with a glass of LaLuca Prosecco. Bubbles and pumpkin sound like a fantastic way to kick off the Thanksgiving festivities.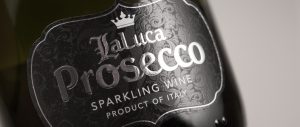 Below is the recipe. We hope you enjoy it!
Fried Pumpkin Ravioli
Ravioli Dough:
·         1 cup all-purpose flour
·         2 egg yolks
·         2 tablespoons butter (softened)
·         2 tablespoons of milk
·         1 tablespoon of sugar
·         1 tablespoon of Meletti Sambuca
·         The zest of ¼ lemon
Filling:
·         ½ cup canned or fresh pumpkin (puréed)
·         ½ cup ricotta cheese
·         ¼ cup sugar
·         2 Amaretti cookies, finely crushed
·         ½ teaspoon of fresh vanilla bean
·         ½ teaspoon of fresh grated nutmeg
Additional Ingredient: Vegetable oil, for frying
For the dough:
Combine all the ingredients in a food processor and process to make a soft dough.
Transfer the dough to a small bowl and let sit covered for 1 hour
For the filling:
In a large bowl, beat all of the ingredients until thoroughly combined
Assembling the Ravioli:
Using a rolling pin or Pasta Machine — whichever you prefer — make 2 long sheets from the ravioli dough roughly 4 inches wide and ¼ inch thick (much thicker than regular pasta dough).
Place a good teaspoon of the filling on the pasta dough roughly 1 inch from the end of the sheet and 2 inches apart.
Cover this sheet of pasta with the other sheet and gently press them together between the mounds of filling.
Cut the pasta between each mound and press together to seal them with the tines of a fork or a ravioli mold.
Cooking the Ravioli:
Preheat the vegetable oil in a pot or deep fryer.
Deep fry the ravioli until they turn golden brown.
Remove the ravioli from the oil and dust them with some confectioners sugar.
Serve warm or cold. Enjoy with a chilled glass of LaLuca Prosecco.